Life lost in 36 hours, innocent girl's big head could be treated …
Highlights:
Unusual baby girl born 2 days ago died in Ara Sadar Hospital
The child's father gave it to Sadar Hospital in writing – he has no money for treatment
Father gave it in writing – if anything happens, he himself will be responsible
Chandan Kumar, Ara
Unusual girl born 2 days ago (on Saturday) at Aara's Sadar Hospital in Bihar died after 36 hours after seeing this Kaliyugi world. She could live, but neither her father was willing to undergo treatment nor the government or social workers improved. Navbharat Times.com reached out to the government after an hour and a half after giving birth to the government, but nobody woke up. Neither the DM of Bhojpur, nor the Health Department, nor the NGO, nor the Chief Minister's Secretariat, did not take care of that life and lost her life today.
After the birth of the daughter, the poor father gave it in writing – 'If anything happens, they themselves will be responsible.' The father said that he is unable to treat this girl.
The girl had hydrocephalus disease. That means his head was full of water. Because of this, the weight of the head of a girl weighing 5 kg 225 grams was about 3.5 kg.
The child was in critical condition since birth, so doctors referred her to Patna. But, the girl's father Sushil clearly said that there is no money, hence cannot be treated further. He wrote to the hospital and said that keep the child here, if anything happens, they themselves will be responsible. What is the time that a helpless father leaves a small innocent after being born?
Ara News: God trusts newborn child in Ara – born 1 day ago .. know what is the reason
A 3.5-year-old baby girl born in Ara, the family made a distance as soon as it was born
Sushil, who lives in Shahpur in Ara, runs a salon. This was his 5th daughter. Sushil and other people of his household were also not ready to treat the girl child. The grandmother of the child was telling God that who should give her Baba. Now Goddess Ka Karija God, what have you done.
The baby's head water could be removed after surgery
Dr. Ajay Kumar Pandey, who looks after the girl at Sadar Hospital in Ara, told that brain water is extracted through surgery. It costs millions. This operation is not available anywhere in Bhojpur district. Such surgeries are done in big hospitals only.
Earthquake in Bihar: earthquake shook Bihar, Patna, people on the road from home
The doctor said – such children are difficult to avoid
On the other hand, Civil Surgeon LP Jha stated that the head of the baby was large. Such children are difficult to save, because not every system of theirs works properly. This is a case of hydrocephalus, in which it is difficult to preserve the child. The number of days that he has a capacity after birth, he can live for that day.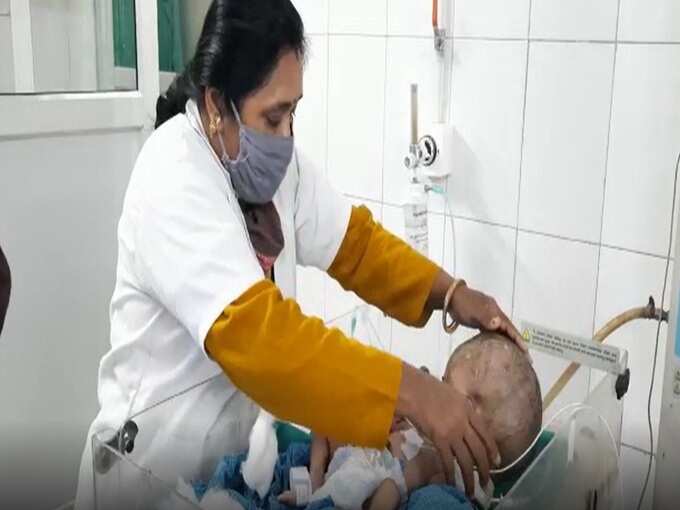 Big headed girl died
.
Source: navbharattimes.indiatimes.com