Herzen's great love for Zakharyina was told in the writer's museum
The novel by Alexander Herzen and his cousin Natasha Zakharyina – with secret escapes, letters, love triangles – began with a fateful meeting on the eve of the first arrest of Herzen, a recent brilliant graduate of Moscow University, in 1834.
"The arrest was for a completely ridiculous reason," Svetlana Golovko, a senior researcher at the museum, tells the MK correspondent. – On charges of participating in a party where libelous verses were sung. There was neither Herzen nor his friend Nikolai Ogarev. But after the arrest of Ogarev, who was suspected of writing these ill-fated poems, his correspondence with Herzen was seized. She was full of very free thoughts. Herzen was arrested with a stunning formulation as "a dangerous free-thinker, very harmful to society."
The exposition shows the criminal case of Nikolai Ogarev and documents related to Herzen's studies at the university. Here is his thesis, which claimed a gold medal, but received only the second silver one, which made Herzen terribly upset.
The few days of freedom that fell to Herzen between his arrest and the arrest of Ogarev, he devoted to trying to save his friend. With the last hope I went to Count Orlov to ask him for a letter of recommendation to the governor. On this day, he meets his cousin Natasha quite by accident near the Novodevichy Convent. Herzen goes out of town, and Natasha, on the contrary, returns to Moscow. They collide halfway. Natasha recognized Herzen, ordered the horses to be stopped, ran out of the carriage to ask: "What about your friend?"
Herzen was shocked that this seventeen-year-old girl was aware of the situation, and for him this tiny, ten-minute meeting with her under the close supervision of his aunt was an event that completely turned his fate. He was arrested the same night. He got to the governor, but not as a petitioner, but as an accused, not knowing that the sword of Damocles had already been brought over him. An epistolary romance began between him and Natasha.
"Before us are wonderful sheets of their letters," Svetlana Golovko shows. – Herzen wrote to Natasha twice a week. I figured that in the first six months of exile, he wrote her fifty-four letters. They corresponded in secret. Natasha was at home under the supervision of her aunt. She has the rarest handwriting, and only Alexander's loving eyes could make out it. She wrote less often, but very long letters. Against the background of such a bright and gifted person as Herzen, her letters do not look like the letters of a provincial young lady. They are smart, subtle, deep, they have many beautiful images. This was a man equal to him both in spirit and in mind.
Before their wedding, which will be four years later, in 1838, they met a total of only three times, ten minutes each. All this time the novel developed in letters. A witness to their rare meetings of that time – this so-called "prisoner glass". Herzen used it when he was in prison in the Krutitsky barracks. Natasha came to him once in prison. In memory of that meeting, Herzen cut out the inscription on the glass with a diamond ring: "July 24, 1834. To my sister Natasha. "
– For a very long time he was afraid to confess his love to her, – explains Svetlana Golovko. – For a long time I called her sister in letters. He dedicated the story "Legend" to his sister Natasha. But in one of the letters Herzen breaks down and makes, perhaps, the most original confession: "Do you believe that the feeling that you have for me is only friendship? Do you believe that the feeling I have for you is one friendship? I do not believe".
Herzen was completely illuminated by the feeling of love. As he wrote, "the era of my Natasha begins." This feeling defined his whole life. Herzen will have several links: Perm, Vyatka and, finally, Vladimir. It was there that he decided to secretly marry his beloved. But for this he must come to Moscow, which is closed for him. It was then that Alexander Ivanovich resorted to a real adventure. He leaves Vladimir for Moscow with someone else's passport and in the costume of his valet Matvey, whose portrait flaunts in the window.
– Herzen leaves Matvey valuable instructions: "If someone comes, tell me that I have a headache and that I am sleeping, light candles in the evening," explains Svetlana Golovko. – It was necessary to create a complete illusion that Herzen was in place. When Herzen arrived in Moscow, he stood by Natasha's windows, waiting for someone to appear from among the servants to whom he could give the note. An old nanny whom he knew well came out. Herzen spent the night with some guards officer.
The next morning they met with Natasha at six in the morning, in secret from her aunt. Herzen recalled their meeting: "She ascended, all in white, dazzlingly beautiful; three years of separation and the struggle endured had ended in features and expression.
"It's you," she said in her low, meek voice.
We sat down on the sofa and were silent.
The expression of happiness in her eyes reached the level of suffering. The feeling of joy, carried to the highest degree, must be mixed with the expression of pain, because she said to me: "How exhausted you look."
So he agreed with her to escape to Vladimir, not a word. All details were decided in letters. The wedding itself became a separate epic. It was necessary to find a house in Vladimir, negotiate with the priest, who, of course, did not want to marry them without the consent of their parents, somehow steal Natasha's passport, without which they would not be married either. My aunt had her passport under lock and key, and through third friends they were able to correct a copy of this passport at the Office. When they were finally married, they sent a letter of repentance. There was a terrible scandal. Auntie raged. She twice tried to give Natasha in marriage while Herzen was in exile. Amazingly, Natasha, without making scenes and scandals, managed to talk to her potential suitors and somehow convince them that she could not marry them because she loves another person. They apologized and withdrew their candidacy.
Herzen's father reacted to the marriage of his son with his cousin in a very peculiar way. He sent him a letter, at the end of which he added: "I am aware of your new marital status, but I will not add a penny to you." However, he continued to give money and bought the newlyweds the very house where the writer's memorial museum is located. In 1839, their son Sasha was born. The portrait of Herzen with his son by Alexander Vitberg makes an incredible impression.
"This is the first portrait in Russian painting where a young father is depicted with a tiny child in his arms," says Svetlana Golovko. – The Herzen were very busy with children. When Herzen came to visit Chaadaev and reached into his pocket for a handkerchief, he took out a children's cap instead. This portrait is absolutely exceptional. Herzen is so young, charming, and inspired here. A very handsome and happy person.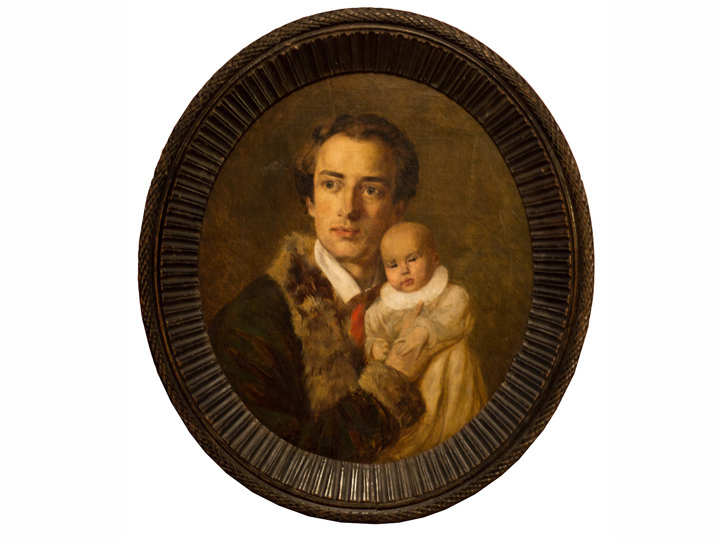 Happiness, alas, did not last long. Soon, Alexander Ivanovich was arrested again on an even more absurd case. In St. Petersburg, a policeman killed and robbed a merchant during a night watch. Everyone was gossiping about this, writing in the newspapers, talking in the market squares and in the palace halls. Herzen wrote to his father in Moscow about what happened, for which he was arrested.
"The first time I was arrested on the case of a party at which I was not present, and the second time – on the gossip, which rattled the whole city" – the writer lamented.
The second link to Novgorod was very difficult for the spouses. The bad and rotten climate undermined Natasha's health. She lost her child and earned consumption from which she never recovered. Here is her portrait, painted in Novgorod in 1842 and moved to the Herzen's house in Moscow. Here he stands out against the background of the writer's personal belongings.
However, the main drama was yet to come. In 1847, Herzen left Russia for good. At the same time, the writer was not at all going to become a political emigrant, but wanted to live in Europe for two or three years. He went abroad with his wife, mother and two children, one of whom is Kolya, deaf and dumb.
"At that time, there were no corresponding education systems for the deaf and dumb in Russia," explains Svetlana Golovko. – We could only advise a Swiss boarding house, where at that time they had already learned to work with such children. Herzen takes Kolya to Switzerland. There the boy very quickly begins to speak, read lips, write in two languages ​​at once – Russian and German. It is clear that the boy was very gifted, despite his deafness. Herzen did not want to leave Kolya at the boarding house, even with his grandmother. He invites one of the leading teachers of this clinic, Spielman, to become Kolya's home teacher. It was Spielman who would then die with him in a shipwreck.
But before this shipwreck, another drama will have time to break out. In France, Natasha falls in love with the German poet Georg Gerwegh, a close friend of Herzen, whom Ogarev introduced him to. Herzen did not expect such a blow. They were friends with families and even rented one house together in Nice – the so-called Xu house on the Promenade des Anglais. The exhibition features a watercolor photograph showing Natalya Alexandrovna on the terrace, the Herzen children and the Gerwegs. Natasha commissioned this watercolor from the French artist Guio. For several days he came to them and painted this landscape in the garden.
"Herzen was absolutely sure that this picture was intended for him," says the curator. – But when the drawing was finished, Natasha told Herzen that she wanted to present it to Gerwegh for the New Year. Then Herzen flushed and realized everything. He immediately kicked Herweg out of the house and left himself, leaving Natasha with a choice: "Either he or me."
"If I part with Georg, I will suffer, but if I part with Alexander, I will die," Natasha admitted in one of her letters. She chooses Alexander, comes to him in Turin. Herzen wrote that the terrible showdown between them lasted for several hours, but nevertheless "Turin reconciliation" came. His testimony is this pencil portrait of Herzen, which Natasha makes at the moment of their reunion.
Nearby, in the window, a shipwreck is already rubbed. On November 16, 1851 the steamer "City of Grasse", on which Herzen's mother Louise Ivanovna and his son Kolya with their tutor Johann Spielmann sailed to Nice, collided with another ship near the Gier archipelago. They all died, but the bodies were never found. Kolya's glove remained, which he handed over to the maid, going to bed, on the night before the disaster. The maid survived and the glove survived.
"She took out his little glove, which had survived in the maid's pocket, and there was a silence, into which life flows away, like into a raised dam. At the sight of this suffering, turning into a nervous illness, at the sight of her shining eyes and increasing thinness, for the first time I doubted whether I would save her, "Herzen recalled.
The tragedy finally broke Natasha, who was also pregnant. She gave birth to a son, who was named Vladimir, but died two days later. The baby died soon after. The sad hall of the exposition is a corner of Natalya Alexandrovna. There are many of her personal belongings here. Her Bible, wallet, casket with her personal belongings, combs, handkerchief, smelling salt. Finally, the most terrible thing is her posthumous portrait of 1852 and a painting of a funeral.
"In the center is a man with a torch holding the boy's hand, this is Herzen," Svetlana Golovko shows. – He holds his eldest son Sasha by the hand. This picture hung for the rest of Alexander Ivanovich's life in his office.
A kind of monument to Natalya Alexandrovna, which Herzen erected, was his great novel "Past and Thoughts", where he resurrected and immortalized the image of his beloved.
.
Source: www.mk.ru