Court sent Disha Ravi to judicial custody for 3 days, police said- In interrogation …
Highlights:
Delhi Police asked for 3 days judicial custody
Shantanu and Nikita have to inquire from the direction
Police said, continued to ignore in custody
New Delhi
In the toolkit case, Claim Activist Disha Ravi's term of police custody came to an end on Friday. He was presented by the Delhi Police in Patiala House Court today. Delhi court has sent Disha to three days judicial custody. Actually, the police told the court that she wanted to interrogate Disha in front of Shantanu and Nikita.
Delhi Police counsel Irfan Ahmed demanded three days of judicial custody in Patiala House Court, which was accepted. Ahmed said that during the questioning in police custody, Disha has been reluctant to answer questions.
Disha Ravi is reluctant to answer. We have given notice to co-accused Shantanu, who will be involved in the investigation on 22 February. He will be confronted face to face with the co-accused. During interrogation, Disha Ravi blames Nikita and Shantanu. All the accused need to be confronted with each other. That is why three days judicial custody is being sought.
– Public Prosecutor Irfan Ahmed, in court
Ahmed told the court that Delhi Police has issued a notice to Shantanu. Disha has blamed the co-accused Shantanu and Nikita Jacob in the Sara Shikara case, so we want to sit them face to face and interrogate them. Police has asked Shantanu to appear before it on 22 February.
Disha Ravi Toolkit Case: Hearing today in Disha Ravi case, know what the court warned
'Police can tamper with case diary'
Disha Ravi's lawyer Siddharth Aggarwal has demanded a case diary. He claimed that many claims were being made by the police. Agarwal also feared tampering with the case diary. Advocate Abhinav Sekhari demanded a legal interview after which the court allowed him to meet Disha Ravi in ​​the lockup.

Disha Ravi Tookkit Case: Whether the gender will be decided on the basis of age, whether FIR will be there or not, Shah's strict statement on Disha Ravi
The court was told that Disha Ravi has applied for bail, which will come up for hearing on February 20. The 21-year-old worker was produced in court amid tight security at the end of his five-day police custody.
Disha Ravi was arrested from Bengaluru on February 13 for sharing and editing a 'toolkit' on social media related to farmers' protests. He was then sent to five days police custody. The Delhi Police had sought custody to identify the pro-Khalistani group (Poetic Justice Foundation) and its active members and to retrieve the deleted WhatsApp group.
Court said on leaked investigation material
Earlier today, the Delhi High Court said that some reports in the media about the investigation of the FIR lodged against climate activist Disha Ravi in ​​the toolkit case point to 'sensational and prejudiced reporting'. The court refused to order the removal of such material at this stage but told media establishments that leaked investigative material should not be broadcast.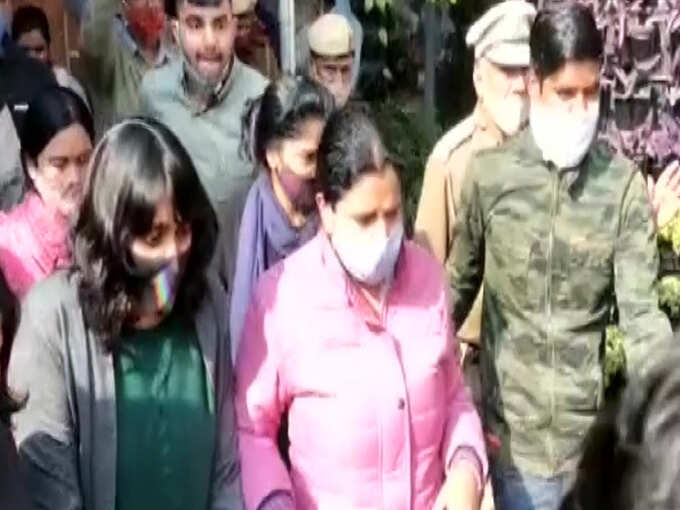 Police takes Disha to court.
.
Source: navbharattimes.indiatimes.com