Bihar Politics: Now Chirag MP gives flowers to Nitish, in hot political environment …
Highlights:
New picture in the political corridor of Bihar
LJP MP Chandan Singh meets CM Nitish
A round of speculation on Chirag's MP meeting Nitish
Nothing surprising in this meeting – LJP
Patna:
LJP President Chirag Paswan is carrying out political attacks on Chief Minister Nitish Kumar almost daily. There is no day when Chirag leaves a chance to attack Nitish Kumar. But in the meantime, a news has come from his camp (Bihar News) which is considered to be a matter of concern for Chirag. An MP from LJP has met Chief Minister Nitish and even given him flowers.
LJP MP Chandan Singh meets CM Nitish
LJP Sasand Chandan Singh from Nawada has met Chief Minister Nitish Kumar at his residence. Chandan Singh has also presented a red rose bouquet to CM Nitish Kumar. It is clearly visible in the picture as well. Now 100 political figures are being extracted from this picture. There is a discussion that the parliamentary fort of Chirag has been broken into. However, it is being clarified that Nawada MP Chandan Singh had gone to meet CM Nitish Kumar on issues of development.
Bihar Politics: LJP's only MLA tricked Chirag Paswan? Raj Kumar Singh said – I am also in the same NDA in which Nitish Kumar is
LJP gave a statement on this meeting
But the timing and personality of the meeting has given an opportunity to discuss it. However, there has also been a response from LJP. The NBT had a phone conversation with Ashraf Ansari, a LJP spokesperson and a close leader of Chirag Paswan.
According to Ashraf, all the speculations being made about this meeting are wrong. Chandan Singh is the MP of Nawada and in such a situation, if an MP meets the Head of State on issues of development, then there is nothing wrong in this. According to Ashraf Ansari, this meeting is not a surprising incident.
A week ago, Chirag attacked Nitish
Lok Janshakti Party President Chirag Paswan arrived in Basantpur village of Jehanabad district Shakurabad on Sunday to attend a private event. Speaking to the media here, Chirag Paswan attacked the Nitish government over the law and order situation in Bihar. Chirag said that criminals in Bihar are executing the incident unbridled and the government is not able to stop the incidents.
On the Rupesh murder case, Chirag, MP from Jamui, said that the police is working to save big people by calling the incident a road rage, the victim's family has also said. The victim's family is also demanding a CBI inquiry into the incident for justice, I also demand the government to conduct a CBI inquiry into the incident so that the victim's family can get justice.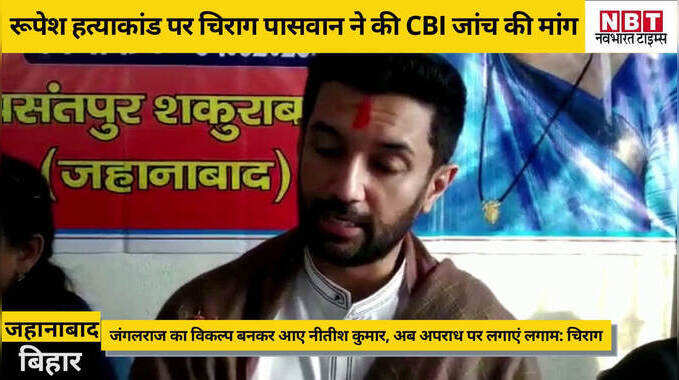 Chirag Paswan said on Rupesh murder case- Nitish Kumar, who came to power as an alternative to 'Jungle Raj', now control crime
He said that Nitish Kumar had come as an alternative to Lalu-Rabri's Jungle Raj. Therefore, it becomes the responsibility of the Nitish government to stop the increasing crime in Bihar. Chirag Paswan had arrived to attend a tribute meeting organized on the death of the mother of LJP candidate Indu Kashyap of Jehanabad Assembly.
With Dinkar's input from Patna
.
Source: navbharattimes.indiatimes.com