Be it Montessori or Main School, the admission process will not be different for pre-schooling
New Delhi
Montessori schools / prep schools are also a special part of nursery admission, which parents are often confused about. To remove the confusion of admission in these schools, the Delhi government has made it clear that these schools will be part of their main school. A separate admission process cannot be maintained for them. In fact, last year there were complaints about some schools which were running separate admission process for their prep school. Some schools have two to three pre school units, in which there is a separate admission process from the main school. On the other hand, in the single admission process, there is also a problem of lack of clarity about the distance.
There are several large schools of Montessori schools in Delhi, where there is an aversion to admission parents. There are 50-60 Montessori schools in Delhi which also have main schools. Montessori schools or prep schools can run the same schools which are under recognized societies or trusts. Education activist Khagesha Jha says, the definition of Montessori school is that schools below class I i.e. pre school. It includes pre school, nursery, KG all. There are about 60 such Montessori schools in Delhi, whose main school is up to class 12th. But there is no clarity on the government's admission regarding the admission rules.
Nursery Admission: 30 days relaxation in age limit of nursery, know what will be its effect
The difference between Montessori School, Play School and Nursery School is very small. Montessori schools can also have a child aged 2+. Many Montessori schools follow the rules of the Main School, says Khagesh. But some of the rules of the main school cause problems like distance criteria. Many schools measure distance from home in distance to the main school. If a school is five kilometers away from its main school in another sector, but even near the pre-school, it still does not get admission. Some schools have opened Montessori schools to avoid Right to Education, says Khagesh Jha. When students are sent to the main branch, there is no monitoring of admission. With this, they also avoid free EWS admission and also get admission in Montessori School by wrong donation.

Admission to nursery in Delhi starts, can apply till March 4
The DDA had allotted around 400 plots for nursery schools in Delhi from 1980 to 2002 at a cheap rate but they have not been inspected. Many main schools, says Khagesh, are running a pre-school by some other name and they name them Independent Schools. These schools do not consider their small schools as their pre-schools, whereas they admit students to their main schools. They are not being investigated by the government. The directorate issued an order in 1999 regarding pre-school / montessori schools, says an education directorate official. Accordingly, the preschools running in Delhi within the same society / trust will be considered as an institution for every purpose.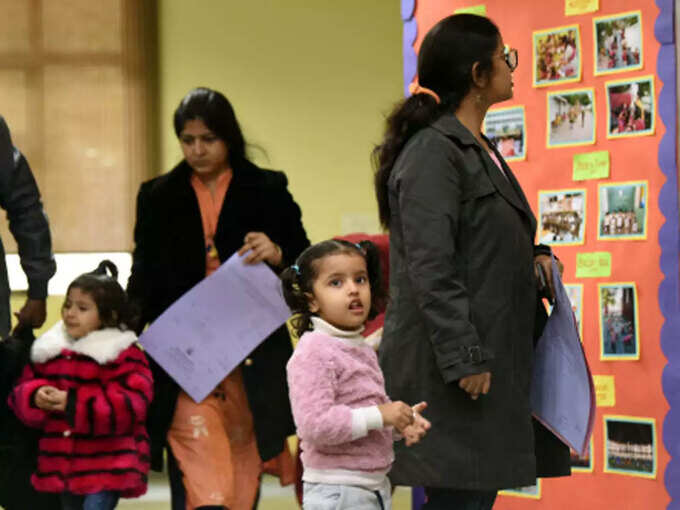 File photo
.
Source: navbharattimes.indiatimes.com